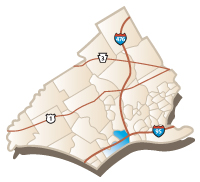 Chester City
1 Fourth Street
Chester, PA 19013
Phone: (610) 447-7700
Fax: (610) 447-7794
Web: http://www.chestercity.com/


This area was a part of the Swedish colonization known as New Sweden. The colonial settlement that became Chester was first known as "Finlandia," then "Upland" by the Swedes who were the first European colonial settlers in the area. Fort Mecoponacka was erected in 1641 as a defense for the settlement near Upland. [1]
William Penn first landed on the soil of the Province of Pennsylvania in Upton on October 27, 1682, via the ship Welcome. Penn renamed the settlement, then the province's most populous town, after the English city of Chester. Chester served as the county seat for Chester County, which then stretched from the Delaware River to the Susquehanna River. In 1789, the city became the county seat for the newly created Delaware County (whereupon Chester County became landlocked, with West Chester as its county seat), but the county seat was finally moved to the borough of Media in 1851. The historic courthouse is located near the new City Hall building.
Chester's naval shipyard supplied the Union during the Civil War, and the United States in subsequent wars until the shipyard at Philadelphia became dominant after World War II. America's largest postbellum shipyard, John Roach's Delaware River Iron Ship Building and Engine Works, was also located at Chester. The Sun Shipbuilding & Drydock Co., later Pennsylvania Shipyard & Dry Dock Company, was located in Chester until it closed in 1990. Two ships of the United States Navy have been named USS Chester in honor of the city.
At A Glance:
Date of Settlement: 1664
Area: 6.0 square miles
Population: 36,854 (2000 Census)
Distance to Center City Philadelphia: 16 miles
School District:
Chester-Upland

Chester City WebLinks: