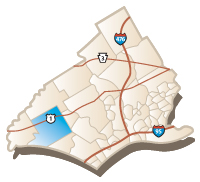 Concord Township
689 Smithbridge Road
Glen Mills, PA 19342
Phone: (610) 459-8911
Fax: (610) 459-8917
Web: http://www.twp.concord.pa.us


According to the United States Census Bureau, the township has a total area of 13.7 mi˛ and sits along the border-arc between Pennsylvania and Delaware.
The second busiest intersection in the state is where Route 1 and Route 202 meet, locally known as "Painters' Crossroad," after the Brandywine Valley school of painters, most notably Andrew and N.C. Wyeth.
At A Glance:
Date of Settlement: 1683
Area: 13.8 square miles
Population: 11,239 (2000 Census)
Distance to Center City Philadelphia: 24 miles
School District:
Garnet Valley
Concord Township WebLinks:
Concordville Fire Co.

Brandywine Youth Club

Newlin Grist Mill