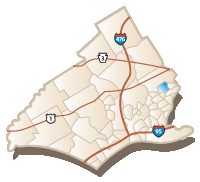 Lansdowne Borough
12 E. Baltimore Ave.
Lansdowne, PA 19050
Phone: (610) 623-7300
Fax: (610) 623-5533
Web: www.lansdowneborough.com


Lansdowne is a borough in Delaware County, Pennsylvania, United States near the western border of the City of Philadelphia. The borough grew quickly in the early part of the twentieth century when a railroad stop was established near the intersection of Lansdowne Avenue and Baltimore Pike. The borough is primarily residential with a commercial center near the original railroad stop, which stretches for a mile along Baltimore Pike. The borough also contained some light industrial buildings which have been in decline in recent decades. At just over one square mile, Lansdowne is small in stature and big in what it has to offer. Its people, services, charm, architecture, culture and history of civic dedication combine to provide the true warmth that can only be found in a small town such as ours.
At A Glance:
Area: 1.2 square miles
Population: 11,044 (2000 Census)
Distance to Center City Philadelphia: 7 miles
School District:
William Penn

Lansdowne Borough WebLinks:
Lansdowne Police

Lansdowne Fire Co.

Lansdowne Theater

Lansdowne Boys and Girls Club

Lansdowne Symphony

Lansdowne Arts Festival

Lansdowne Farmers Market

Lansdowne Public Library

20th Century Club

Animal Friends of Lansdowne

Celebration Theater